Three Sisters. One Dream.
Hello! We are the Esendemir Sisters, Fusun, Gonca, and Arzu. The Flatbread Grill® story goes all the way back to 2007 when the three of us sisters came together to save our sick father's life. After our older sister, Fusun, was laid off from her electronic engineering job, she decided to take fate into her own hands. She enlisted the help of our younger sister, Arzu, who then told the middle sister, Gonca, about the business idea. All three of us joined together to co-found what would become Flatbread Grill®.
Growing up in poverty and watching our immigrant parents work hard to realize the American Dream helped paved the way for us to overcome the challenges and obstacles that we would face during our restaurant careers. Our father, who had at one time owned his own restaurants, warned us that this would be a very tough and demanding business, but we still forged ahead. We rented an old, rundown building on a quiet suburban street in Upper Montclair, NJ. We got to work designing the interior, developing the menu, and building out our first store. We were very hands on with not only the buildout, but also the brand identity.
We wanted to create something that would combine our love of traditional Turkish food, but also be appealing to everyone from all walks of life. We became one of the first fast casual restaurant concepts to take Turkish cuisine and serve it in 'platter' format. We also created a very special, proprietary bread called Thumb Bread® that spawned many failed imitations all over the world. It took us almost a decade to realize that we were trendsetters, as we began to see larger chain restaurants and our competitors begin to try and replicate our menu items, our store design, and even our uniforms. It was flattering and humbling; but more importantly, the imitation was a testament to how special our journey and our restaurant concept really was to others.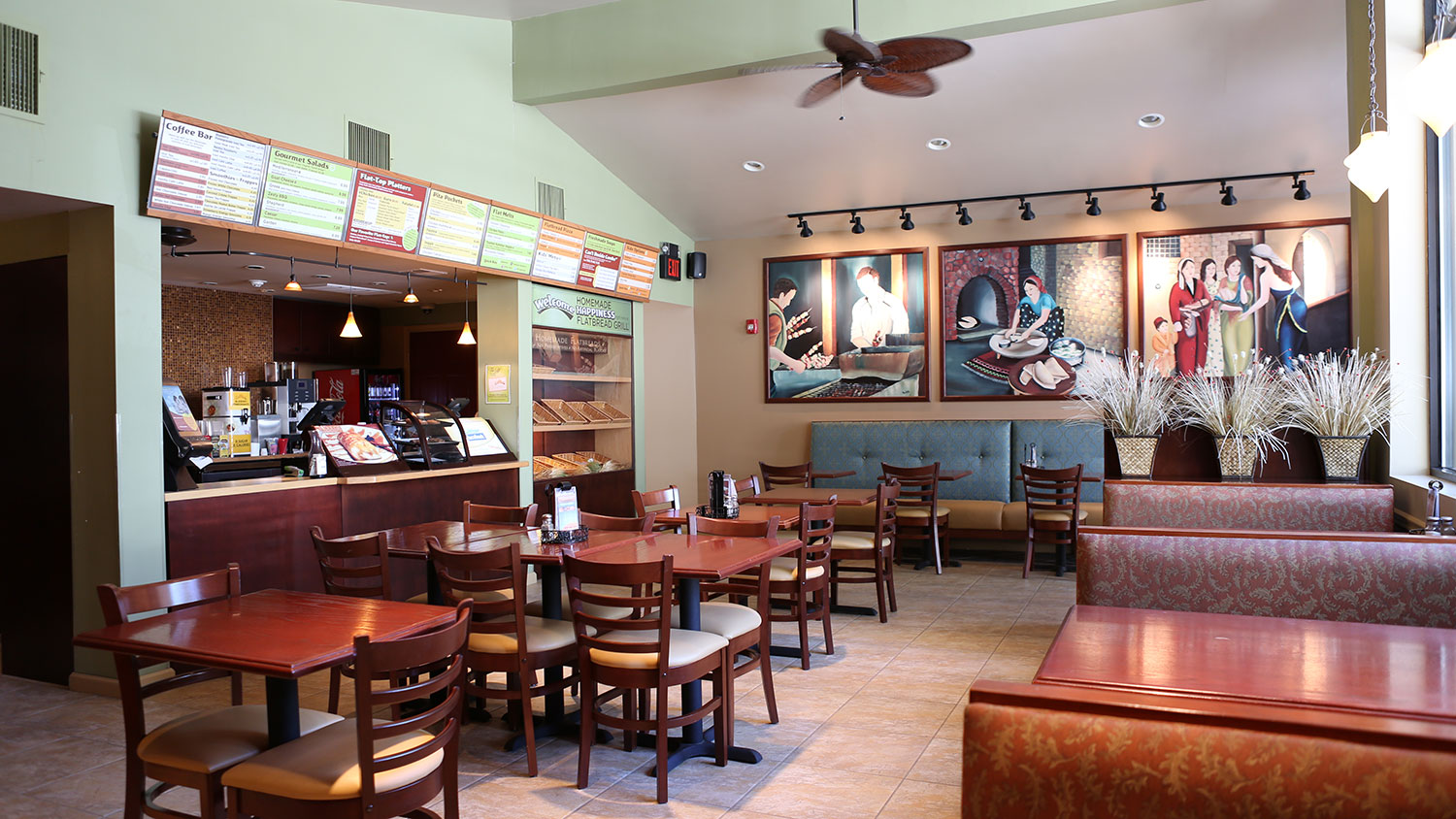 We poured every ounce of creativity, dedication, and intuition into building our first store. We didn't have enough money to market the opening of our store, so we put up a 'COMING SOON' sign with the date we would be opening. Keep in mind, that it was the height of an economic recession, so everyone was warning us that we would more than likely fail. We didn't listen. We stayed focused and put our hearts and complete souls in making sure Flatbread Grill® was going to be a home run. Our parents lives depended on it. Our first store opened on March 13, 2008.
The first day we opened, we had a line out the door. We weren't quite expecting it, but nonetheless, we worked hard to make everyone happy. The three of us were running the front of house and back of house without much help. It was a demanding, but ultimately, rewarding learning experience that allowed us to build operational efficiency and focus on making Flatbread Grill® the embodiment of our ideal restaurant. We were open for only two weeks when an editor from the prestigious New York Times ate at Flatbread Grill®. Within two months of opening, we received an outstanding review in the New York Times, as well as an order to cater for celebrity make-up artist, Bobbi Brown.
We ran the first store by ourselves. We baked. We cleaned. We prepped. We did dishes. We did inventory. There were no managers. There were no line cooks. We served close to one million people without the help of a big staff. We did it together. We did it as a family. Every step of the way, we had each other. We had our father by our side, encouraging us to never give up because we had built something so special together. We overcame challenges. We experienced setbacks. We struggled together. We celebrated together. If there's one thing our tough upbringing taught us, it was always to stick together. Just as our father told us when we were kids: "You girls will always be stronger together than you will be apart". He was absolutely right.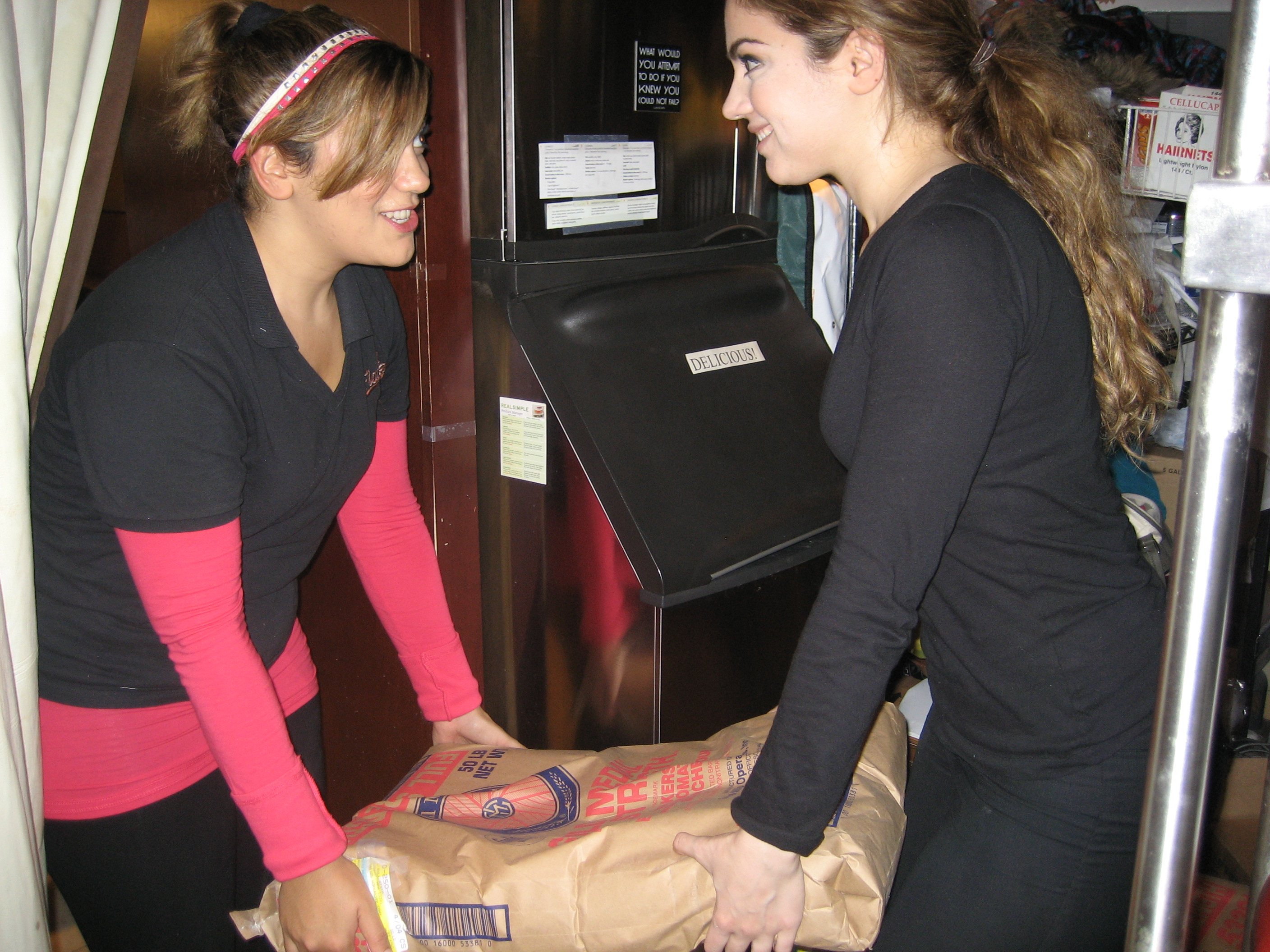 We rolled up our sleeves and worked. We meticulously prepared every platter, sandwich, and salad as if we were serving it to our family members. We took no shortcuts. We quality checked everything. We paid attention to details. Through our hard work, we were able to afford health insurance for our father, allowing him to undergo the open heart surgery he needed to survive. After he recovered, we began to think about expanding Flatbread Grill®. We believed we could share our passion for great food and unique concept with everyone, everywhere. Word had also spread about this really cool 'flatbread place', so people began peronsally approaching us to expand the concept.
In 2013, we were profiled by Inc. Magazine for a web series about entrepreneurs, just as we were building our social media presence for both the business and ourselves. The series was shot in our Upper Montclair, NJ location as we were getting ready to open another store in Hoboken, as well as begin franchising. The web series helped catapult our social media to a worldwide audience who were inspired by our story. We found ourselves as accidental role models and motivators for others who were experiencing setbacks, challenges, and difficulties in their lives, as well as those who aspired to own their own business. We saw this as an opportunity to open up and share our journey as a means to empower others. We were scared at first because it meant putting ourselves in the public eye and becoming an easy target for critics. However, the positive feedback we received by being our authentic selves, as well as being honest about our journey, proved that it was a great decision.
Alas, another major setback would occur shortly after the Inc. web series took off. In 2013, we found ourselves in an unfortunate situation with our landlords at the first location, which prompted us to say goodbye to a place that we had built with blood, sweat, love, and tears. We were truly broken at one point, but determined to move on and start over again. We set out to open yet another store in a completely different market with a completely different demographic. Though the situation with our former landlords was horrific and heartbreaking, we were not going to throw the towel in and quit. We picked up the pieces and rebuilt our brand, rebuilt our business, and rebuilt our lives.
Our Hoboken store opened on August 15, 2015. We re-developed the menu, while staying true to our roots, streamlined the operations and scaled it, design the interior, and oversaw the buildout ourselves. No managers, no restaurant consultants, and no marketing agencies. We once again depended on word of mouth to drive our success, as well as utilized our social media presence to help get the word out. We operated the store ourselves until we put a solid team into place so it could operate without us. In 2016, we were honored by our local community for being an outstanding women-owned business.
We continue to stay true to ourselves and our family values as we embark on the next phase of our journey. After a decade of being in this industry as owner-operators, we can honestly say that we understand the trials, tribulations, and the joy that comes with owning a restaurant. As children, we learned a great deal watching our immigrant parents work in this industry. There is no roadblock or obstacle that we have not encountered. There is no challenge we have not met and conquered. We continue to work hard and we continue to believe in our journey, even when the going gets tough. We never put people over profits. We have a supportive team in place. We mentor our staff and help them achieve their greatest potential. We push them to be better because we in turn expect the best from ourselves. We maintain the quality of our food and deliver consistent value to our customers. As others have succumbed to fading trends or tough economic times, we have held steady by working hard and being honest. We love being able to invite others to join our family. We are truly honored to share this journey with others. We look forward to growing Flatbread Grill® worldwide with wonderful, ambitious, and hard working people by our side.
Thank you for reading our story. Looking forward to meeting you all 🙂
Sincerely,
Fusun, Gonca, and Arzu Esendemir
Say Hi: EsendemirSisters.com / Instagram / Facebook